Tour de Pink
January 01, 2019
Fundraising Incentives
You can earn many exciting incentives at the fundraising milestones below. We hope these awesome prizes will help you achieve your goals and encourage you to aim high. All incentives will be given out on-site at Tour de Pink this fall.
The 2020 ride incentives will be COMING SOON. See below for last year's incentives.
2019 Incentives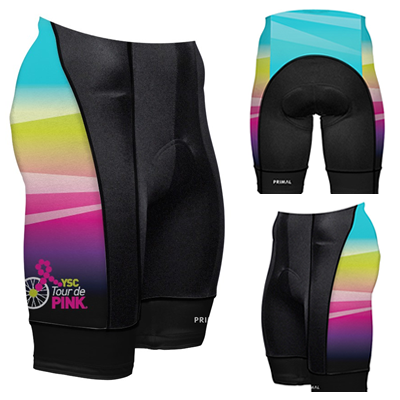 Early Bird Prize
Raise $1,500 by July 1st to receive the 2019 TdP cycling shorts*. The design matches the cycling jersey that you will receive at the ride.

*Riders who earn the Early Bird Prize AND raise $5,000 will earn 1 pair of shorts, and additionally earn the thermal water bottle below.
Maska (Neck Gaiter)
Raise $3,250 to receive a TdP Maska by Primal Wear. It is made of sweat wicking fabric, and can be worn around your neck, face, or head.
Arm Warmers
Raise $4,000 to receive the 2019 TdP arm warmers by Primal Wear, optimized for freezing temperatures yet versatile enough for up to 75 degrees F.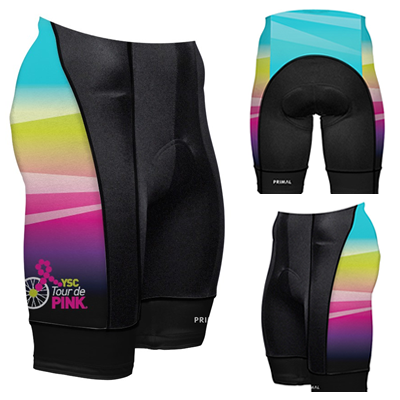 Cycling Shorts
Raise $5,000 to receive the 2019 TdP cycling shorts by Primal Wear ("Prisma" short), in mens and womens sizing.
Cycling Shorts & Thermal Bottle
If you raise $5,000 AND earned the Early Bird Prize, you will receive 1 pair of shorts and additionally earn this stainless steel thermal bottle.
KOOZIE® Kooler Backpack
Raise $7,500 to receive a TdP backpack cooler, perfect for any outdoor adventure.
Tracer Hoodie
Raise $10,000 to receive an amazing full-zip TdP hoodie by Primal Wear.